Profile
For over 75 years, we have been active internationally as a family run company in the supply and installation of complex curtain walls façade using natural stone.  The name HOFMANN STONE stands for outstanding quality, constant growth and first-rate reliability.
We offer comprehensive turn key solutions, all from one source. With around 100 large-scale projects annually, many for renowned architects and investors, we contribute in our own way to modern architecture.
Services includes opening up and securing deposits of high-grade natural stone, planning by our in-house engineering teams, advanced processing in our own facilities, logistical support and installation supervised by our own qualified engineers.
In the context of facility management, we also provide inspection and maintenance services and façade refurbishment.
Thanks to these integrated in-house solutions, our customers can expect timely completion and precision workmanship on projects meeting the highest requirements and specifications.
Production Plants
Our production plants are located in Gamburg, Niklashausen and Warthau (Poland). Here the natural stone is cut to order, finished, subjected to the most rigorous quality testing and the individual orders made up ready for installation. We employ state-of-the-art computer-assisted manufacturing equipment (CAM) in all our plants.
Extraction in our own quarries
We draw our materials from our own quarries and from contracted sources with first-class stone beds. Our quality control process begins at the earliest stages of production with surveying of deposits by our own geologists. The natural stone blocks are carefully selected and precision-cut for their intended purpose. This guarantees the outstanding quality of our natural stone and perfect results – all from one source.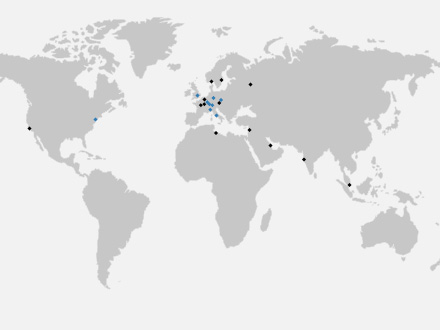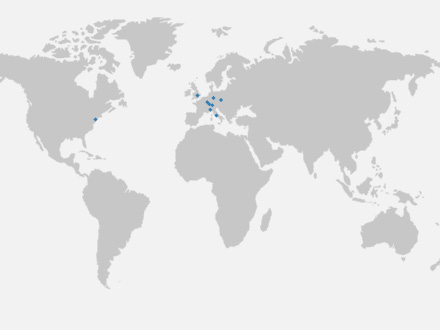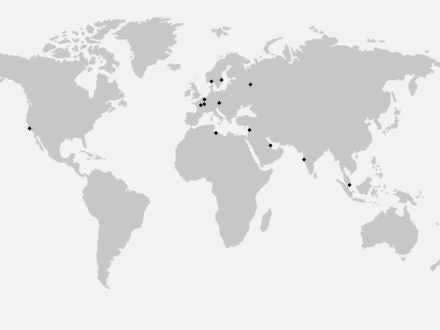 BRANCHES
With our own offices in Germany and abroad, we are the right choice for both national and international projects.
German offices
Berlin
Frankfurt
Cologne
Munich
International offices
Zürich, Switzerland
Kraków, Poland
REPRESENTATIVE OFFICES
In addition to our own branches, we also have a presence in other countries with representative offices or qualified sales partners.
European representatives
Vienna, Austria
Luxembourg
Amsterdam, The Netherlands
Paris, France
Stockholm, Sweden
Oslo, Norway
Global representatives
Tel Aviv, Israel
Moscow, Russia
Singapore
Los Angeles, USA
Mumbai, India
Memberships
Our company is an active member of the board of the Deutsche Naturwerksteinverband DNV (German natural stone association). The managing directors Dipl.-Ing. Heinrich Georg Hofmann and Dipl.-Ing. Johannes Georg Hofmann, as chairman and member of the technical commission of the DNV, are committed to the technical development and know-how around the use of natural stone on a national and european level, among others in the standards commission.
Through DNV, our company is also a member of the German Sustainable Building Council (DGNB). The DGNB is committed to environmentally and resource-friendly, economical and energy-efficient construction. The DGNB defines forward-looking sustainable requirements for buildings. With a building envelope in the form of a ventilated natural stone curtain wall, these sustainability goals for the facade can be achieved particularly well.
Company History
HOFMANN NATURSTEIN GmbH & Co. KG was founded in 1945 by Anton and Dorothea Hofmann and is one of the leading companies in the European natural stone industry. For more than 75 years we have been internationally active in natural stone facade construction as an owner-managed family business.
Jobs & Carrer
As an owner-managed family business, we rely on flat hierarchies with short decision-making paths and independent work. This enables us to offer optimal career and advancement opportunities. An essential criterion for the high quality of our work is the excellent qualification of our employees. We are a certified training company and specifically promote the training and further education of our workforce.