COMPREHENSIVE SERVICE FOR ARCHITECTS, PLANNERS AND CLIENTS
Natural stone opens up a diverse range of fascinating possibilities for architecture. We will be happy to assist you in carrying out your building project, and we can provide you with personal advice on all questions and during each phase of the building – from planning and the invitation to tender through to the work being carried out. We offer you the following services for comprehensive support:
CONSULTING SERVICE
Individual consulting on natural stone façade and anchoring systems from our structural engineers and stone technicians
Examination of technical feasibility and structural pre-measurement of façade designs
Preparing price indication
You can book a consultation appointment with our sales employees directly here.
SAMPLE SERVICE
Sending natural stone hand samples with the selected surface finish
Opportunity of viewing mock-up façades and large format natural stone raw slabs at
our company and production facility in Gamburg
Browsing our in-house stone library with more than 5000 samples
Planning and building of mock-up façades in coordination with metal facade companies
PLANNING SERVICE
Provision of standard detail drawings
Development of individual, project-related detail solutions
Support with planning natural stone curtain façades according to DIN EN 18516 / EN 1469
Support with preparing invitations to tender
Structural pre-dimensioning of façade slabs
Downloads:
Our download area provides you with standard façade details, service specifications for the invitation to tender for natural stone façade as well as information about the company, natural stones and façade solutions.
Material overview - colours and surfaces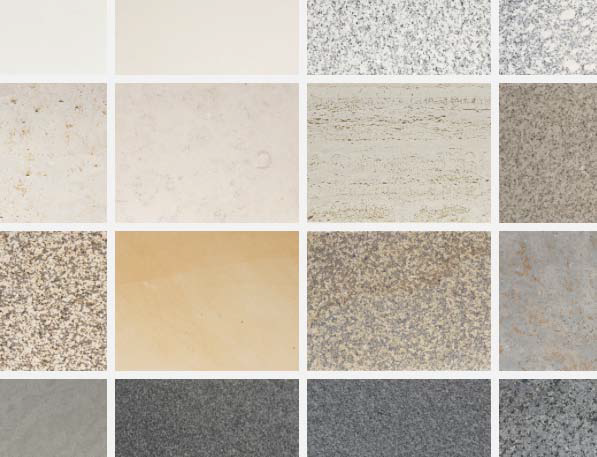 Get to know the variety of our granites, sandstones and limestone. This overview in the form of an interactive PDF will show you a selection of our materials and the full range of innovative and traditional surface finishing techniques. Each of the natural stone types is available with several different finishes. These include Aquapower®, Flamed, Honed, Bush-hammered, Hand-split, Jet-blasted or Chiselled.
Reference book
Our reference buildings designed by well known architects and built by renowned owners will inspire you. This will give you a compact overview of the breath of possibilities available nowadays in terms of architecture, design and technology using natural stone.
Curtain Wall Stone Facade Systems
Two of a kind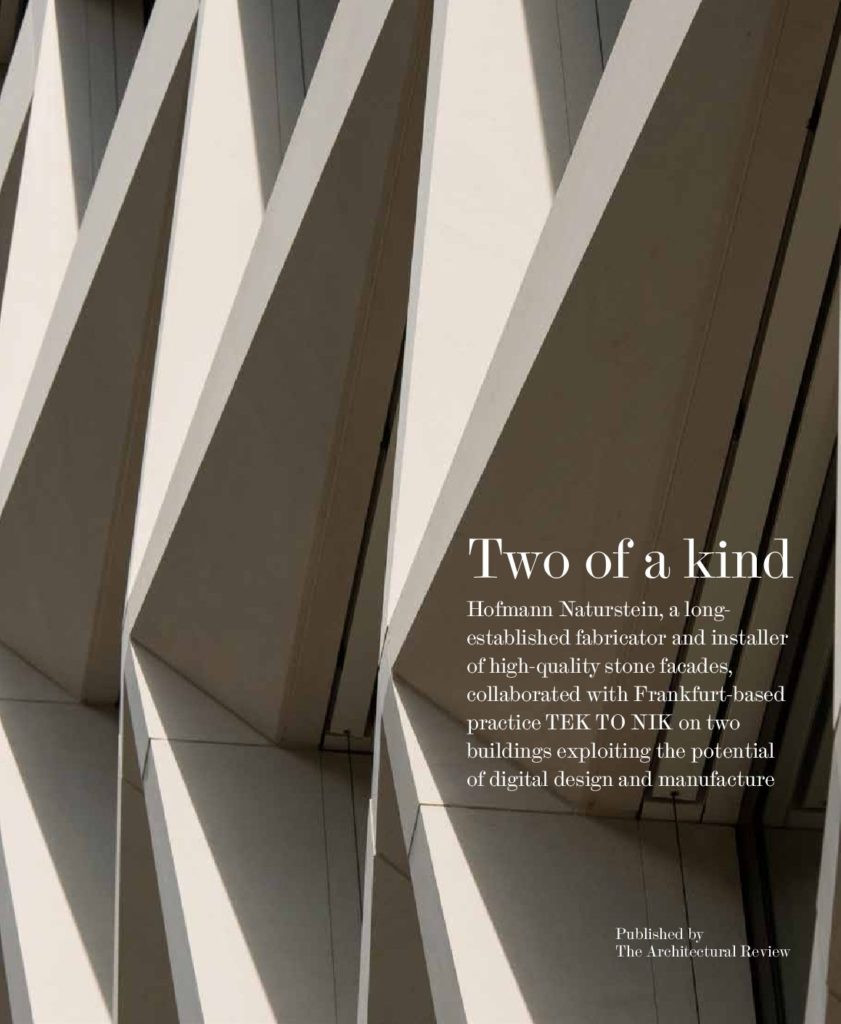 Two of a kind
Hofmann Naturstein, a long-established fabricator and installer of high-quality stone facades, collaborated with Frankfurt-based practice TEK TO NIK on two building exploiting the potential of digital design and manufacture.